Python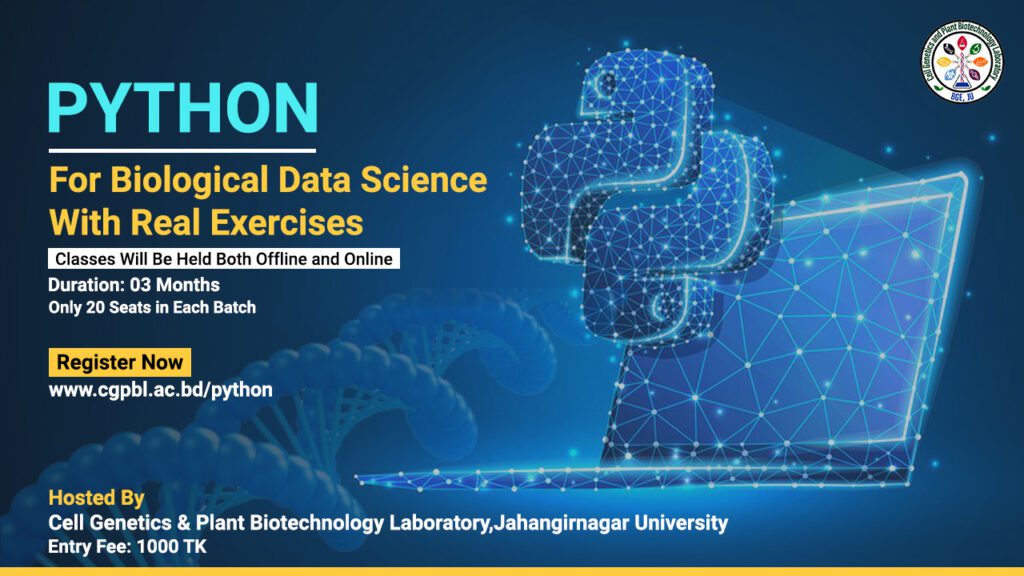 Python for Biological Data Science With Real Exercises
Hosted By the Cell Genetics & Plant Biotechnology Laboratory at Jahangirnagar University.
#Duration: 03 Months
#Classes Will Be Held Both Offline and Online
#Course Completion Certificate Will Be Provided
#Register Now
*** Link to Register: www.cgpbl.ac.bd/python ***
#Entry Fee = 1000 BDT
#Only 20 Seats in Each Batch. So, Hurry Up to Grab One.
এই তথ্য প্রযুক্তির বিপ্লবের যুগে প্রোগ্রামিং জানাটা মৌলিক জ্ঞানের অংশ হয়ে গিয়েছে। জ্ঞানের এমন কোন শাখা নেই যেখানে প্রোগ্রামিং এর প্রয়োগ নেই। গবেষণা ও উচ্চতর শিক্ষার জন্য অন্তত একটি প্রোগ্রামিং ল্যাংগুয়েজ জানা জরুরী তো বটেই কোন কোন ক্ষেত্রে বাধ্যতামূলকও।
প্রোগ্রামিং ল্যাংগুয়েজ গুলোর মধ্যে পাইথন সবচেয়ে জনপ্রিয়, সহজও বটে। জীববিজ্ঞানের বিভিন্ন শাখায় ডেটা এনালাইসিস ও ভিজুয়ালাইজেশান এর জন্য পাইথন বহুল ব্যবহৃত। তাছাড়া মেশিন লার্নিং এর জন্যও পাইথন অতি প্রয়োজনীয়।
বায়ো সায়েন্সের ছাত্র ছাত্রীদের মাঝে প্রোগ্রামিং এখনো তেমন জনপ্রিয় হয়ে উঠেনি। এই ফিল্ডে প্রোগ্রামিং এর প্রয়োগ নিয়ে খুব বেশি রিসোর্সও নেই পাবলিক ডোমেইনে। সেই বিবেচনায় সেল জেনেটিক্স ও প্লান্ট বায়োটেকনোলজি ল্যাব আয়োজন করেছে "Python for Biological Data Science With Real Exercises" শিরোনামে ৩ মাস ব্যাপী পাইথন কোর্সের।
About the Course Instructor
Tanjim Taharat Aurpa
Department of CSE
Jahangirnagar University
About the Instructor: Tanjim Taharat is studying CSE at Jahangirnagar University. She is serving as a Microsoft Learn Student Ambassador and institutional ambassador in Research Publication Guardians – RPG. Besides studying, she is into different research projects. Her research interests are in Computer vision, NLP, Zero-Shot learning, and Social Network Mining.
#Course Outline
1. Python Installation + Basics
2. Python Conditional Statements
3. Python Data Structure
4. Python Functions(Basic)
5. Python Function(Automation)
6. Introduction to Python Libraries
7. Numpy
8. Pandas
9. Matplotlib
10. Seaborn
11. Scipy
12. Statistical Analysis 1
13. Statistical Analysis 2
14. Dataset Analysis
15. End of Course
নির্দেশনাঃ
১) বিকাশ/নগদ/রকেটের মাধ্যমে রেজিস্ট্রেশন ফি ১০২০ টাকা পরিশোধ(সেন্ড মানি) করুন এবং ট্রানজেকশন আইডি সংরক্ষন করুন।(ফর্ম পূরণের জন্য লাগবে)
বিকাশ – ০১৩০২ ২৬৬ ০১৬
নগদ – ০১৩০২ ২৬৬ ০১৬
রকেট – ০১৫১৫ ২৫৭ ১৮০৮
***সবগুলো পার্সোনাল নাম্বার***
২) ফি প্রদানের পর রেজিস্ট্রেশন ফর্মটি পূরণ করুন।
৩) উপস্থিতিঃ সার্টিফিকেট অর্জনের জন্য সর্বনিন্ম ৮০ ভাগ ক্লাসে উপস্থিত থাকতে হবে এবং সব টাস্ক নির্ধারিত সময়ের মাঝে সাবমিট করতে হবে।
৪) হোমওয়ার্কঃ প্রতি সপ্তাহে ছোট ছোট হোমওয়ার্ক দেয়া হবে এবং সেগুলো যথাসময়ে সাবমিট করতে হবে।
বিঃদ্রঃ অল্প কিছু সিট থাকায় ইচ্ছে থাকা সত্ত্বেও সবাইকে সুযোগ দেয়া সম্ভব হবে না। আগে আসলে আগে পাবেন ভিত্তিতে প্রথম ২০ জনকে অন্তর্ভুক্ত করে নেয়া হবে।