Webinar on Antimicrobial Resistance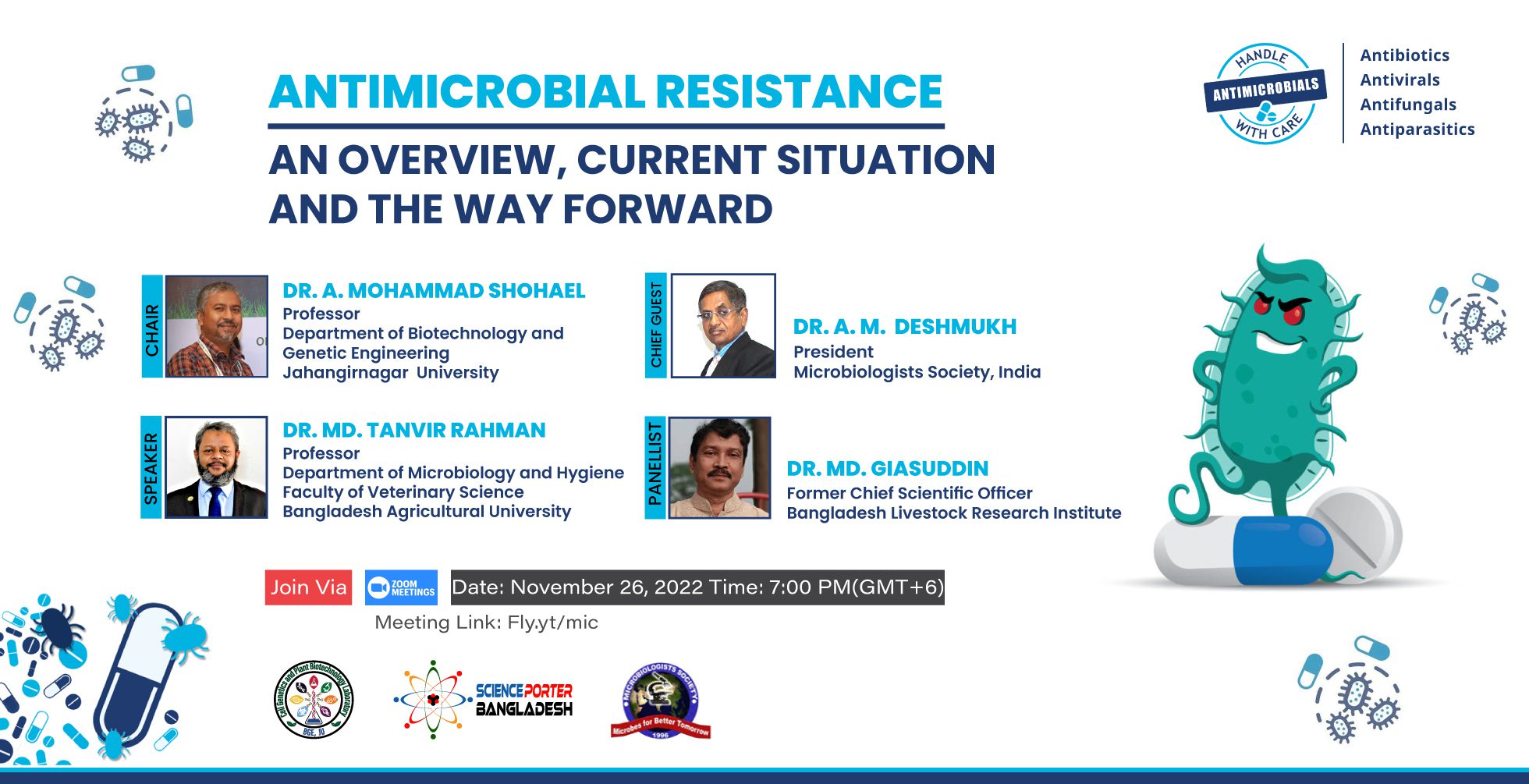 The emergence and spread of drug-resistant pathogens that have acquired new resistance mechanisms, leading to antimicrobial resistance, continue to threaten our ability to treat common infections. Especially alarming is the rapid global spread of multi- and pan-resistant bacteria (also known as "superbugs") that cause infections that are not treatable with existing antimicrobial medicines such as antibiotics.
The clinical pipeline of new antimicrobials is dry. In 2019, WHO identified 32 antibiotics in clinical development that address the WHO list of priority pathogens, of which only six were classified as "innovative." Furthermore, a lack of access to quality antimicrobials remains a significant issue. Antibiotic shortages affect countries of all development levels, especially in health- care systems.
Antibiotics are becoming increasingly ineffective as drug resistance spreads globally, leading to more difficult-to-treat infections and deaths. New antibacterials are urgently needed – for example, to treat carbapenem-resistant gram-negative bacterial infections as identified in the WHO priority pathogen list. However, if people do not change how antibiotics are used now, these new antibiotics will suffer the same fate as the current ones and become ineffective.
The cost of AMR to national economies and their health systems is high as it affects the productivity of patients or their caretakers through prolonged hospital stays and the need for more expensive and intensive care.
Without effective tools for the prevention and adequate treatment of drug-resistant infections and improved access to existing and new, quality-assured antimicrobials, the number of people for whom treatment is failing or who die of infections will increase. Medical procedures, such as surgery, cesarean sections, hip replacements, cancer chemotherapy, and organ transplantation, will become riskier.
To address this global problem, Science Porter Bangladesh has organized a webinar on antibiotic resistance titled "Antimicrobial Resistance: An Overview, Current Situation, and the Way Forward," sponsored by the Cell Genetics and Plant Biotechnology Lab at Jahangirnagar University.
One of the foremost authorities in the world, Dr. Md. Tanvir Rahman, will discuss the issue in depth in this seminar and how researchers and scientists might approach it. In the end, he and the panel will attempt to respond to your queries.
Title: "Antimicrobial Resistance: An Overview, Current Situation, and the Way Forward"
Duration: 90 minutes
Date: Saturday, November 26, 2022
Time:
Pacific Time (PT) : 6:00 AM (GMT-7)
Greenwich Mean Time : 1.00 PM (GMT)
British Summer Time : 2.00 PM (GMT+1)
CEST : 3.00 PM (GMT+2)
Saudi Arabia Standard Time: 4.00 PM (GMT+3)
Pakistan Standard Time : 5.00 PM (GMT+5)
Indian Standard Time : 6.30 PM (GMT+5:30)
Bangladesh Standard Time : 7.00 PM (GMT+6)
Link: Fly.yt/mic
We are fortunate to have Dr. A. M. Deshmukh, president of the microbiologist society in India, as our chief guest and Dr. Md. Giasuddin, Former Chief Scientific Officer at Bangladesh Livestock Research Institute, as our esteemed panelist.
It's an excellent opportunity for YOU to learn about the research being done in Bangladesh to address this global crisis.
Register now to get a reminder. Link to register: fly.yt/mic01
If you are participating, please check "Going" and "Register" for the webinar so we can make sure you get the best experience. And please share the message with your friends who might be interested in this. Because, after all, sharing is caring!
If you want us to host more seminars like this one, then please make sure to like and follow our Official Facebook page at fb.com/scienceporterbd
About the Speaker:
Dr. Md. Tanvir Rahman: Dr. Rahman is a Professor in the Department of Microbiology and Hygiene, Faculty of Veterinary Science at Bangladesh Agricultural University. He is also the DIRECTOR of the Professor Muhammed Hussain Central Laboratory (PMHCL) of Bangladesh Agricultural University. He is also an Adjunct Visiting Professor of Xinxiang University, Henan, China. Dr. Rahman completed DVM from Bangladesh Agricultural University (BAU) in 1993. Later he completed MSc and PhD from University of Guelph, Canada and University of Warwick, UK respectively and Postdoc from the Max-Planck-Institute for Terrestrial Microbiology, Marburg, Germany.
Earlier Dr. Rahman worked as the Senior Regional Vaccine Consultant for the Government of Bangladesh, PI for LPVRPC(Livestock and Poultry Vaccine Research and Production Centre), Bangladesh Agricultural University and Department of Microbiology and Hygiene, BAU. Currently, Prof. Rahman is an the General Secretary, Bangladesh Society for Veterinary Education and Research. In addition, Member, Technical expert committee for the development of AMR surveillance protocol, Department of Livestock Services, Government of the People's Republic of Bangladesh. And also the member, Technical Committee on Biological Risk and Biosecurity, Bangladesh Food Safety Authority, Government of the People's Republic of Bangladesh.
His major expertise includes antibiotic resistance, molecular ecology, virulence and public health. So far he has published more than 134 papers in peer-reviewed National and International journals (Total IF around 400, H inmdex=23) including Veterinary Microbiology, The ISME Journal, Microbial Drug Resistance, Journal of Bacteriology, Applied and Environmental Microbiology etc. As a research team leader Dr. Rahman has worked as supervisor and co-supervisor for 100 MS and PhD students. Dr. Rahman is also working as the member of the editorial board of several peer-reviewed journals including Bangladesh Veterinary Journal, Veterinary Infectious Diseases (Frontiers in Veterinary Science), Frontiers in Terrestrial Microbiology. Microbiological Research (Elsevier). Veterinary World etc.
About the Event Chair: Dr. Abdullah Mohammad Shohael, professor of Biotechnology & Genetic Engineering at Jahangirnagar University, Bangladesh is a leading researcher in the field of Plant Biotechnology and a science popularizer. He is also the director of "Cell Genetics and Plant Biotechnology Lab".
He did his Ph.D. in Agricultural Biotechnology from Chungbuk National University, South Korea. He had worked as a research collaborator for the "International Rice Research Institute" in the Philippines. He was awarded the prestigious "JSPS Postdoctoral fellowship".
He had worked as a Postdoctoral Research Associate at the "Cell Genetics and Citrus Improvement Lab" at the University of Florida, USA. Dr. Shohael has published articles in many reputed international journals. He is now working at IRRI as a Visiting Research Fellow.
About the host: Sayem Md Nasrotullah Sarkar is a student of Biotechnology & Genetic Engineering at Jahangirnagar University, Bangladesh, and a tech geek. His research interest is in Computational Biology and AI. He led the problem pool team at the country's first-ever international standard Hacking Competition, "JU-CTF 2019".
Mr. Sarkar is a popular writer on Quora English and works as an admin for multiple quora spaces. He is also the department ambassador for both the "Jahangirnagar University Computer Club" and "Jahangirnagar University Higher Study Club". He has been the recipient of the "Biotechnology Awards 2020" by GHP News, England, for his startup company "AIEDGE". He has also been awarded the "Best Department Ambassador Award 2019" by JU Computer Club. Mr. Sarkar has worked as a volunteer for organizations like the UN and the TWB.